About Coop DeVille
Hammond, LA's Best Buffalo Wings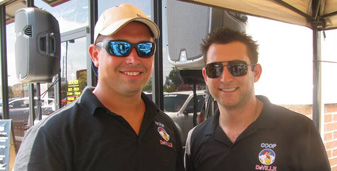 Our story began in 2010 when two local firemen sat down at the only table the takeout restaurant at the time had to offer. With no prior restaurant experience, Jeremy and Greg knew Coop DeVille could be so much more.
With the support of family & friends, they took a leap of faith and purchased the restaurant. In September of 2011 in an effort to better serve our customers, we opened just down the street and added a full service dining area with bar and our Coop to Geaux drive thru.
Today we have grown into a local favorite and award winning wing restaurant. Here at Coop Deville, we strive to make each customers experience a pleasant and enjoyable one.
With over 40 wings flavors available, every diner is sure to find something to enjoy.

Can you eat 8 wings in 5 minutes or less without cooling off your taste buds? Try the Beat the Heat Challenge! If you can Beat the Heat, you'll qualify for our annual Wall of Flame contest.

They say variety is the spice of life. Well, at Coop DeVille we have 40 wing flavors (some with plenty of spice) available! Traditional, Honey Cajun BBQ, Mango Habanero, Bacon Cheddar, and more!

Come and eat at Coop DeVille with your Lion's Lagniappe Account. Escape the cafeteria and enjoy Hammond's best wings with your SLU student ID. Lion Up Tuesdays! Get 10% off with your SLU student ID.